Have you ever wondered which are the most exotic and expensive properties in Lanzarote, Well, here we have a list of them.

The exotic Indian resort is valued at 6 million euros.

The luxury resort extends over an area of almost 110.000 m2 and offers a total of 10 villas and a manor house with reception, a large yoga room, a spacious dining room with industrial kitchen, a reading and relaxation room and a large 76 m2 heated swimming pool hidden in a natural Jameo with artificial grass, Balinese beds, whirlpool bath, pool bar with exotic baths and a fabulous hammock under the shade of the palm trees.
Each villa is individually and lovingly decorated with high quality, authentic Indonesian furniture and decoration. Marble and petrified wood bathrooms, hand-carved teak wood, natural stone tiled floors, original Balinese rattan furniture, handmade tapestry made from the finest textiles and a multitude of other details create a unique, colourful and cosy atmosphere.
The entire resort is surrounded by palm trees, ancient trees and many endemic plants. Each house has its own private terrace and garden with views of the volcanic landscape of unique beauty.

More info here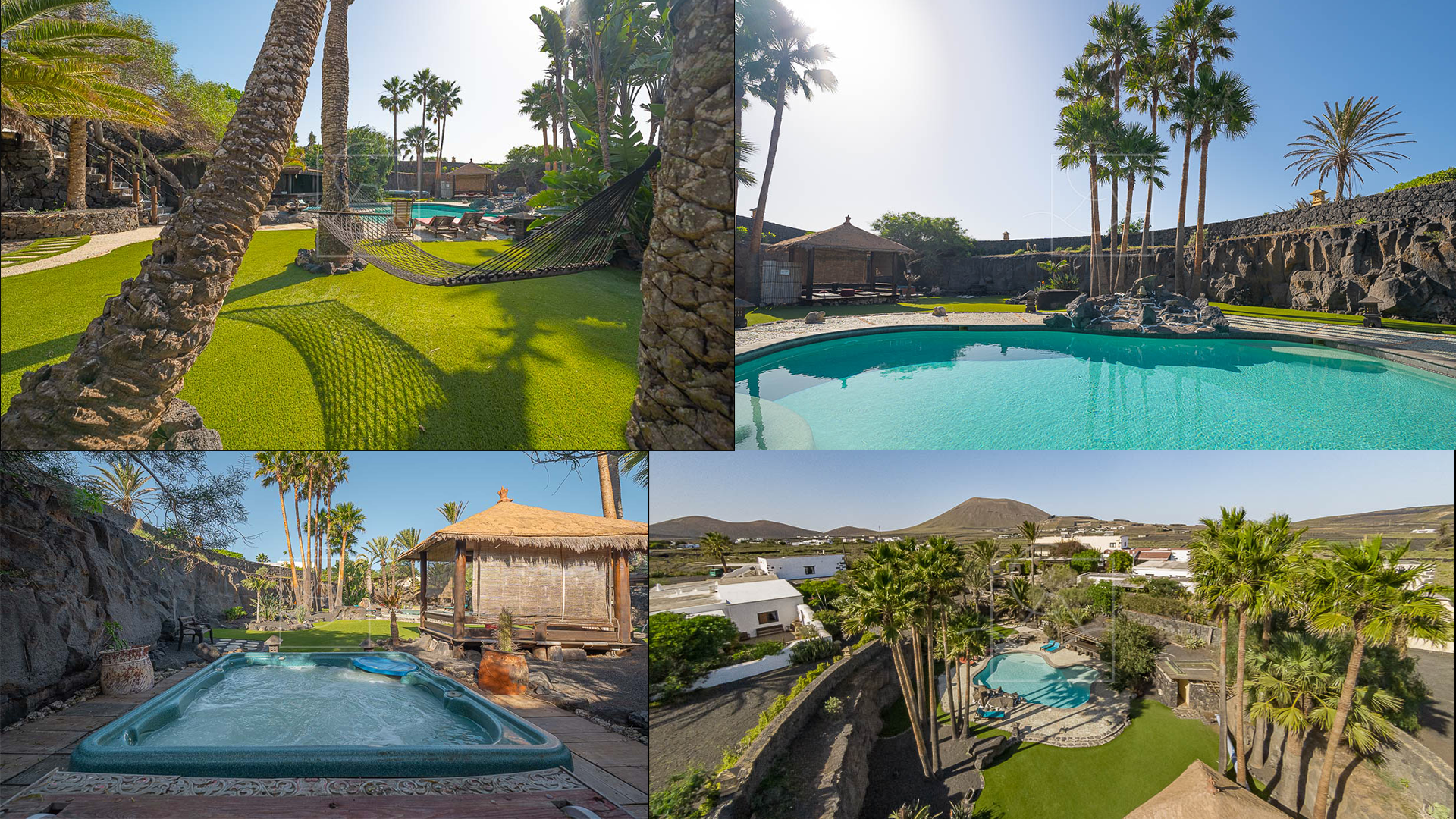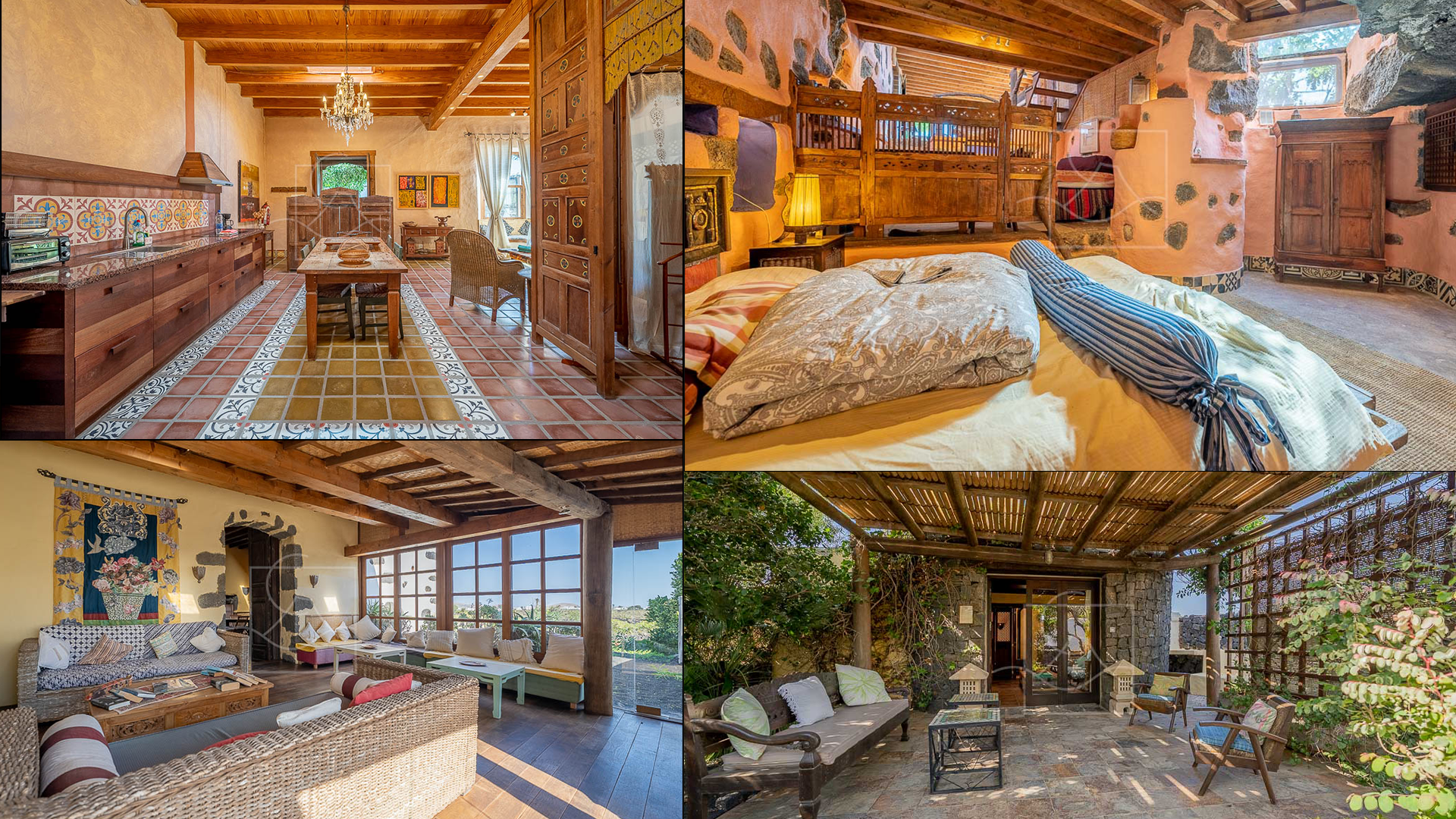 Villa Paraiso, Macher.

Paraiso is based in the Macher, Lanzarote. Easily accommodating up to 21 guests. Surrounded by landscaped gardens in a secluded area. Villa Paraiso has lovely mature gardens. It is set in a prime but tranquil location and has all the local amenities on hand. This luxury holiday villa is an ideal setting for romantic celebrations. Large family gatherings.

Relax and enjoy the Lanzarote sunshine away from the hustle and bustle of everyday life!

More info here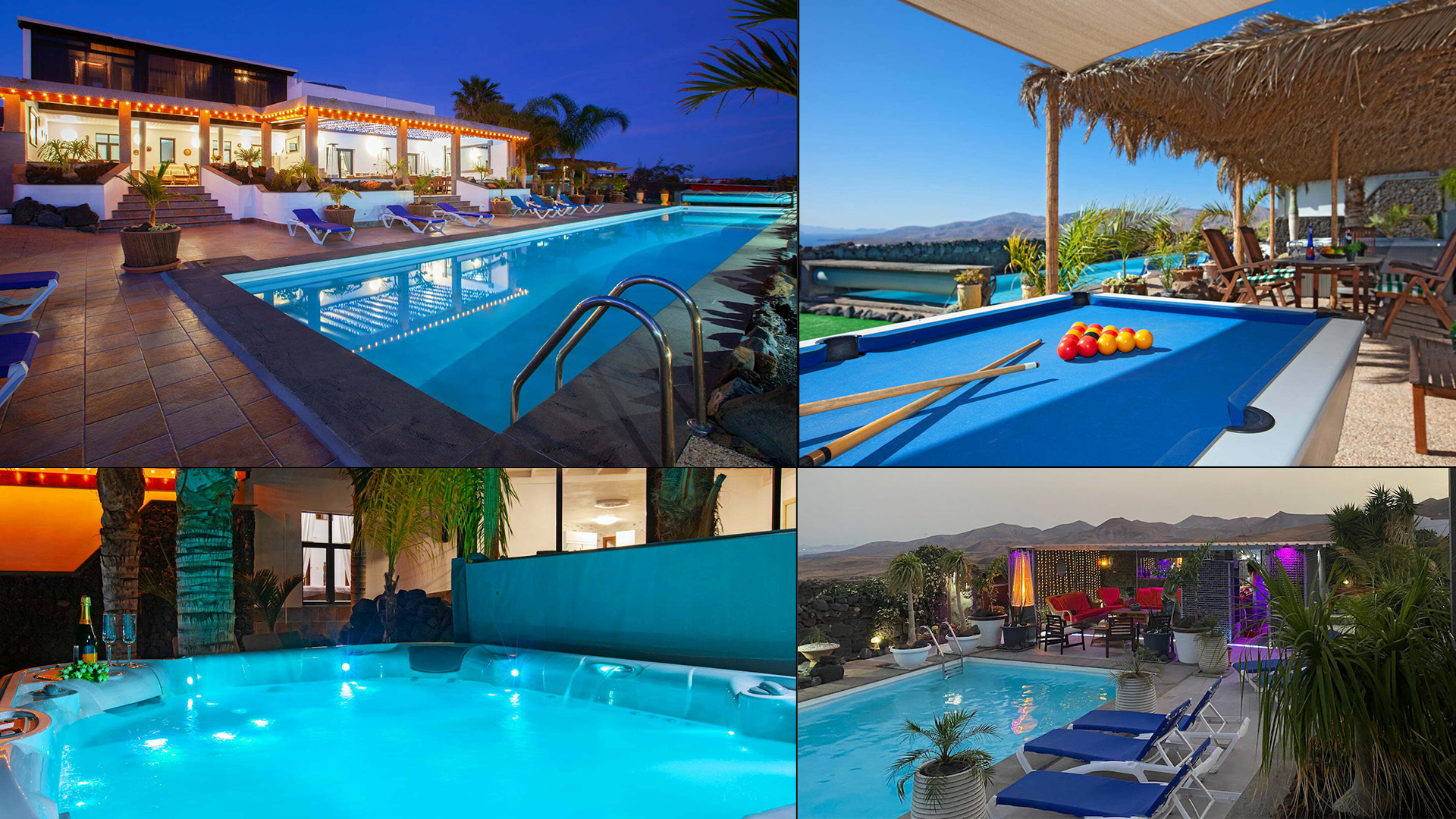 Lagomar museum in Nazaret.
Located on the cliff of the Nazareth volcano, in the municipality of Teguise, the LagOmar Museum is an example of the voluptuous and organic architecture that dots the landscapes of Lanzarote and an impressive contemplative experience for everyone who visits it.
This artistic and architectural work, unique in the world, is built between nooks and crannies, rocks, caves and tunnels and has become a reference for the Art and Culture of Lanzarote. Its gallery hosts traveling exhibitions and supports local artists.
An essential visit for anyone who visits the island, the rocky space, open in a canal, houses exotic gardens and impossible twists and turns transformed into viewpoints. Designed hand in hand by César Manrique and Jesús Soto in Lagomar, all roads lead to the lake: a suggestive pool surrounded by oriental vegetation.
The creativity of the artists here is just one more ingredient in a work sculpted by the whimsical advance of lava in the last eruption of the volcano, and that same magma was later reused as a constructive material.
Integrating art, nature and the environment, the wooden beams of this fire- shaped construction come from the remains of shipwrecks that reached the coasts of Lanzarote.
More info here