Things to do in Puerto del Carmen
You can honestly find an abundance of fun new things to experience every week in Puerto del Carmen. But what else do you expect from Lanzarote's top resort! There's an ample amount of pristine beaches & coastline, a vibrant nightlife for letting your hair down and putting your dancing shoes on, wild water activities and a ton of things for families to do including waterparks & zoos! You're even ideally located close to the otherworldly Timanfaya National Park and the Cueva de Los Verdes lava tube.
But, let's go into a little more depth and discuss top things for you to do in Puerto del Carmen!
#1 - Rancho Texas Lanzarote Park
This park is a must-see, no matter what your age is! It is open all-year round and is amazing value for money. With a rating of Excellent on TripAdvisor from over 8700 reviews, Rancho Texas Lanzarote Park is the #1 rated activity in Puerto del Carmen. You can rest assured knowing you are going to have a good time!
When you purchase a ticket it grants FREE access on the bus to get there from Puerto del Carmen, once arrived there are options to go on a pony ride or canoe around the lagoon! Then you can adventure around the many zones & experience some of the most exotic wildlife you will ever see. Not only is it a wildlife park, but it also features waterslides & pools for you to have fun in the splash area! Just remember to bring some spare clothes with you.
For 2 adults and 2 children, it will cost you under £100, and that is with free travel as well. So for those prices, you can't pass up such a fun experience. They even offer the chance to fulfil a dream and interact with Sea Lions & Dolphins, the children will never forget something like this.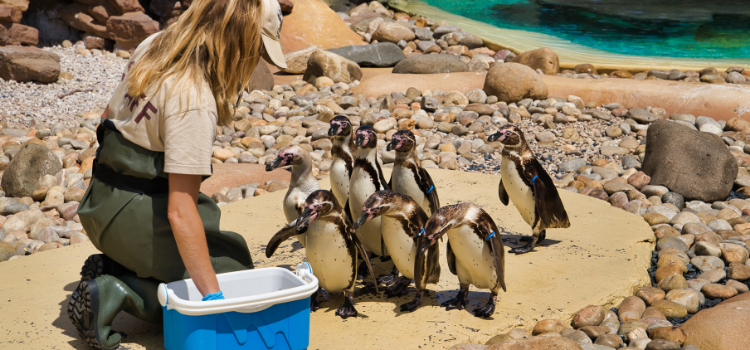 #2 - Biosfera Plaza Shopping Centre
If you're a lover of shopping then Biosfera Plaza is your port of call! With four floors of stores filled with huge brands such as Zara, Guess & Ray-Ban. With many restaurants to dine in & even amusements to keep your children entertained! There is even an open-air cinema on the rooftop which is an amazing/unique experience if you're used to the standard cold weather in the U.K and sitting inside a gloomy cinema. Accompanying the open-air cinema is a mini-golf course and a 6d cinema screen which gets you involved in the action with all your senses being tingled.
With an all-weather ice-rink one of the levels, and zorbs on the water for the kids to enjoy. There is even a Eurospar supermarket so you can even grab your food shopping! Everything is in one place, it's not your average run-of-the-mill shopping centre. Perfect for residents and tourists alike.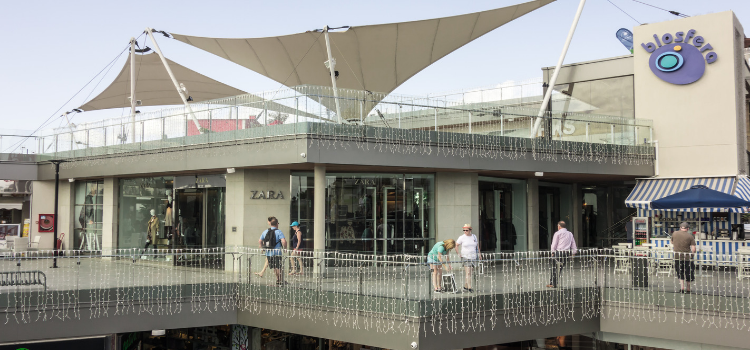 #3 - Old Town Harbour, Puerto del Carmen
Rated excellent from over 1500 reviews, the Old Town Harbour in Puerto del Carmen is a thing of beauty. With a calming aura around the Old Town, it is perfect for an evening stroll. Enjoy the bars & restaurants in the area that arguably offer up the best seafood in the region! Don't believe us? You'll have to try it out for yourself and decide. If you're wanting to soak up the atmosphere and feel the energy liven up, hang around until the night-time.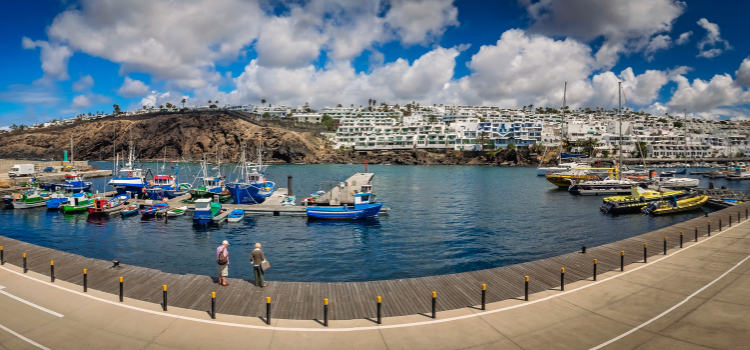 About Puerto del Carmen - Lanzarote's social hub
Nesting on the south coast of Lanzarote lies Puerto del Carmen. Originally an old fishing village (a common theme among the resorts in Lanzarote), Puerto del Carmen has developed into one of the best-known resorts on the island. This is largely down to the wide variation that appeals to a large range of people. Ideally located just a short 10-minute drive from Arrecife airport, making it extremely accessible by car, taxi transfers or bus.
Puerto del Carmen has long become a well-established resort that has thrived from tourism over the last few decades, thankfully certain areas have managed to retain its traditional fishing village charm
What is the weather like in Puerto del Carmen?
You can expect to enjoy warm weather all year long, with the average temperature never dropping below 20 degrees celsius. During the summer months, rain doesn't seem to exist anymore, with an average of 1 day of rain in total throughout the month of June, July & August. Even in the wettest months, there is only an average of 5 rainy days. So if you're looking to escape the dreary British weather, and starting soaking up the Mediterranean sunshine, then Puerto del Carmen should be your port of call.
Access to surrounding resorts from Puerto del Carmen
If you want to adventure to surrounding resorts it's easily done. Puerto del Carmen is ideally located near other popular locations such as
Costa Teguise
. Puerto del Carmen to Costa Teguise will only take a short 22-minute drive. If you don't drive you can jump on the bus takes a little longer but still, a respectable time at 1 hour and 20 minutes, best of all the bus only costs €6
Properties available to buy in Puerto del Carmen
If you are thinking of buying a new home in Lanzarote, then Puerto del Carmen is a prime location to start your search. Puerto del Carmen is home to some of the most luxurious villas in Lanzarote and here at Roper Properties, we are proud to showcase a selection of these villas. So take a look at our assortment of apartments and
villas available to buy in Puerto del Carmen
.
With prices starting from €105,000 for a stunning sea-view apartment, all the way through to €1,000,000 luxury villas. We cater to all budget sizes, family sizes & style preferences, as we understand that certain properties that are dreamy to one person, maybe different to someone else. It's all personal taste. We strive to find you your dream home.
View all
properties available to buy in Puerto del Carmen
, Lanzarote.